About The Group
Aspirations Group is a progressive real estate company, based in Kolkata and is one of the aspiring vertically integrated builders in the city. Our Group strives to provide consistent infrastructural development that is comparable to the best in the country. The Group's customer friendly approach has helped it to gain tremendous goodwill among the property buyers. Ever since its inception in 2005, Aspirations Group has come up with quite a few remarkable residential and commercial property ventures and promises to redefine the skyline of the new Kolkata horizon in nearest future.
Over the last few years, we have been acknowledged for quality, commitments, integrity, timely execution, innovative technology up gradations, brand equity & value addition all through for all our projects.
The company is managed by highly qualified professionals who are fully engrossed to ensure that the company maintains its high standards in quality construction, timely delivery and customer satisfaction. The company has always strived hard to keep its commitments and thus enjoys an extremely resonant reputation in the construction industry

Mission
A trusted real estate builder that achieves customer's true satisfaction and delight through accountability, discipline and best processes.
Core Strength
Specialization :
Aspirations Group has a team of specialists that focus exclusively and professionally on the various departments viz. Architects, R & D Team, Realty Advisors, Sales and Marketing, Post sale customer service. They are well trained and experienced in terms of real estate skills and knowledge for identifying the best operational and cost saving strategies and opportunities for our valued customers.
Cost Savings :
Cost saving is Aspirations Group's highest property. We conduct a competitive process of multiple negotiations with several property building vendors so that we can procure the highest quality of basic raw materials at a very reasonable price and therefore reflecting on the final competitive price of the property. We prepare comprehensive financial analysis covering all possible occupancy and relocation costs to enable our clients to make informed decisions based on all possible cost factors.
Client Focussed :
Client care is a hallmark of Aspirations Group. Each client is assigned a dedicated team, led by a Senior Client Care Executive offering a single point of responsibility and control. He manages the process from beginning to end, assuring the level of quality and consistency of service which global clients demand.
Long-term Relationship Orientation :
Aspirations Group focuses on the relationship, not just the "deal". Our model is designed to handle multiple, simultaneous projects in diverse geographic areas. We are therefore able to manage projects both large and small with equal efficacy.

Vission
Our aim is to provide premium housing and commercial projects to our clients at par with international standards and therefore provide benchmark quality standards and a luxurious lifestyle. However, care must be taken to keep a price line within the affordability range of the Indian Market so that people are able to afford an International Lifestyle at a reasonable price.
Core Values
Trust :
We develop trust through honesty and transparency in intentions and actions, thereby speeding up operations.
Unity :
We work with inter and intra departmental unity so as to align to our vision.
Customer Satisfaction :
We consistently strive for customer satisfaction by being responsive in every situation, both in the case of internal as well as external customers.
Discipline :
We establish and maintain discipline coated with trust and generate ownership at every level.
System-driven :
We integrate the best systems and processes to achieve consistent results for our clients and associates.

Team
We have taken steps towards establishment and understanding the nerve of huge real estate industry and have given the inherent strength to the company resulting into growth in high speed through vast experience of having serviced corporate clients.
Our Board of Directors include Mr. Chandan Chatterjee and Mr. Amit Bajoria. Their vast knowledge and experience has reflected on the growth curve of the company that is needed to achieve aggressive goals of satisfying customer requirements.
Our Industry certified consultants and advisors bring a vast array of skills to our ongoing effort to provide "best-in-class" solutions for our clients. Our architectural planning has been masterminded by a host of eminent and internationally acclaimed professionals and consultants. Architects of national and international repute are associated with most of our esteemed projects.
We emphasize a lot on the intellectual stimulation generated by a wide array of our employees. With a team of visionary and highly efficient support staff system, we are already on our way to redefine the Real Estate job horizon. A sense of ownership, focus on high performance and dedication, open culture and a caring environment are some of the characteristics shared in common by all. We share a work environment that empowers, engages and sets new targets for our fellow staff members to achieve their respective goals at their workplace.
Aspirations Group's Research and Development team is always on their toes to explore new horizons for a better tomorrow. Their skills are fast updated through a series of intensive programmes and exposure to the most cutting-edge technologies and tools.
Board Of Directors
Chandan Chatterjee
Director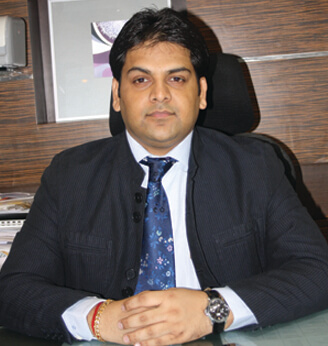 Amit Bajoria
Director